News
Doosan Logistics Solutions Extends Partnership with KNAPP
2023.05.25
- Expanding Order Opportunities with AI and Robot Technology in Advanced Logistics Solutions
- Ensuring Solution Supply Stability and Building a Solid Partnership by long term cooperation contract
Doosan Logistics Solutions (hereinafter DLS) announced on the 23rd that it has decided to extend its exclusive contract with Knapp, the world's leading shuttle-type storage system provider, for the domestic supply of logistics automation solutions until 2027. This is meant to be the basis for a long term partnership between Doosan and KNAPP and foresees an automatic renewal of the agreement in future.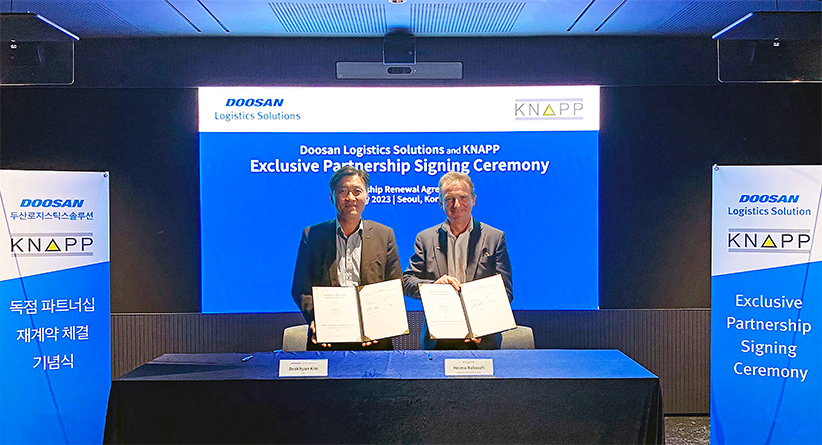 Knapp, the Austria-based value chain tech partner and provider of logistics automation solutions, is the world's first company to develop and commercialize a shuttle-type storage system. Since 2019, they have exclusively supplied logistics automation solutions to Amorepacific, Nike, and Daiso through their partnership with DLS. Additionally, Knapp's reach extends to over 2,000 installations worldwide for customers like Walmart, Asics, and L'Oréal.
Both companies agreed to collaborate on the domestic supply of logistics automation solutions as well as on the development of advanced logistics technology use cases, specifically focusing on "Zero-Touch logistics solutions" by working smarter and using latest technologies like robotics and AI based software and reducing inefficient manual tasks (that can increase the level of automation while minimizing manual labor. Relevant warehouse data is processed and provided to the customer. This partnership also involves extensive research of robot integration across the various stages of the logistics process.
Key products and solutions that both companies will domestically supply include ▲OSR shuttle "EVO," ▲Pickengine, and ▲Pick-it-Easy Robot.
The OSR shuttle, "EVO," is the latest Shuttle technology of KNAPP AG. With the OSR Shuttle™ Evo, customers profit from maximum flexibility and efficiency in order processing. This makes the OSR shuttle Evo system the ideal element in an automated logistics solution where high-performance is needed, such as in e-commerce, micro fulfillment and omnichannel distribution. The OSR Evo shuttle systems can be tailored easily to your target performance and investment needs making it ideal for small- to big scale logistics facilities, while providing a high level of efficiency. Thanks to the configuration as 1D or 2D system the OSR Shuttle Evo covers a wide range of applications in terms of performance, for cartons and box based operations.
Pickengine is an innovative solution based on the KNAPP AG OSR Shuttle family with high standardization, allowing a short delivery time below one year and offering all advantages of a highly efficient goods2person picking system for a wide range of applications from MFCs to E-com/retail and spare part business.
Pick-it-Easy Robot utilizes advanced AI technology to identify objects and pick up a wide range of goods seamlessly transferring them to their designated target location.
A representative from DLS said, "This extension of contract was concluded based on the mutual trust established over the course of our various projects, including reliable logistics automation consulting and engineering capabilities." He also added, "We will continue to lead the market with Knapp by supplying the most advanced logistics automation solutions tailored to the specific needs of domestic customers."
The domestic logistics automation market continues to thrive and is expected to grow at an average annual growth of 9% by 2027.
Prev

No previous articles

Next

No next articles